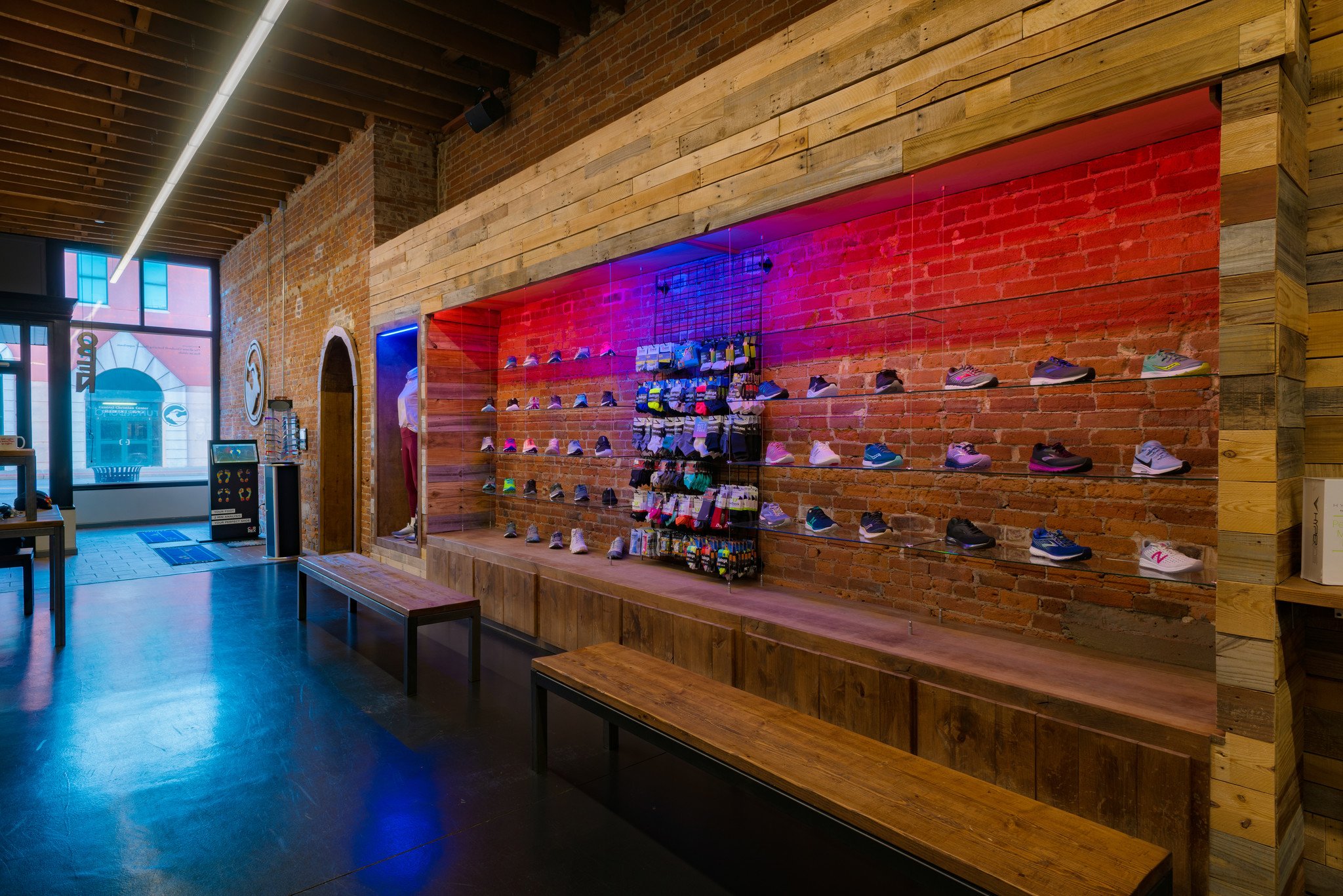 The right shoes for better movement
Running and fitness footwear have come a long way and so has our knowledge about feet and how shoes should properly fit. Our philosophy is to make sure your foot function is only improved by footwear and not restricted. We want to help you get rid of the sore arches, beat up toes, and persistent blisters. From advanced cushioning to innovative ways of supporting the foot, there is a shoe for everyone. At Runaround Running & Fitness we understand that you are 1 of 1. The size and shape of your feet, as well as the strength and flexibility of the muscles and joints in your legs make you one of a kind. Leave the challenge of fitting your foot type to the experts. Our goal is to keep you moving and moving well!
Our Process
Instead of using old practices like video gait analysis, we have established a fitting process that not only focuses on your feet but also on the whole body. After all, your body moves as one whole unit and is not segmented, so why put a magnifying glass on your feet? Along with proper ankle and foot position, we also will do a quick analysis of strength and posture. We will do a volume test on your foot utilizing our innovative Currex fitting station. We will be able to see the foot strike pattern, foot size and width under pressure. From here you will have the option of running on our TrueForm Treadmill so that we can properly check your running or walking mechanics to determine how your form affects your overall efficiency and comfort.
If you haven't visited us in the past, we don't want you to be nervous about our fitting process. It's quick, easy and informative. It is our passion to help you and answer all the question you might have. However, we know that people want to be as prepared as possible before arriving for their fitting so we have provided some frequently asked question and tips to help you feel more comfortable on your first visit.
FAQ's
Do I need to make an appointment?

If you would like to make an appointment, feel free to use our online scheduler. The scheduler helps us prepare for your visit, but making an appointment is not necessary. All of our staff is trained to advise you and make your footwear selection process easy and stress-free!

Do I need to be a runner?

Absolutely not. In fact, we are so much more than running. Our fitting process was designed to help everyone from running to walking to just being on your feet all day. We fit moms, dads, kids and grandparents!

What should I wear?

Whatever you have on will work! Many of our customers choose to wear work out gear, but every day we have people come dressed for work or in jeans. You will not be asked to do anything strenuous or cause you to sweat. We will also have an assortment of try on socks for you as well.

Can I come in for a fitting even though I don't need new shoes right now?

Absolutely! We are happy to perform the fitting process on anyone at any time. Feel free to bring in friends and family members who aren't currently in need of new shoes. We will give some insight on what shoes might be suitable for that person when he or she is ready to make a purchase, and can talk technique any time!

What if I don't like my shoes after I purchase?

We hope that together with your input, we'll help you find a great choice. But sometimes something isn't perfect. We'll make it right for you. Bring your shoes back in and we'll revisit the fitting process with you and find you a new option!

Do you have a loyalty program?

Yes. Our Runaround Fitness & Lifestyle Co. Points Program thanks you for shopping local with points earned on every purchase that then reward you with special 1 of a kind items that are not available for sale.

I have old running shoes still in good condition, do you all offer a recycling program?

At Runaround Fitness & Lifestyle Co, we are proud to partner with Project Sole for our shoe recycling program. Just bring your reasonably clean donation to our location and we'll get it to the right people.